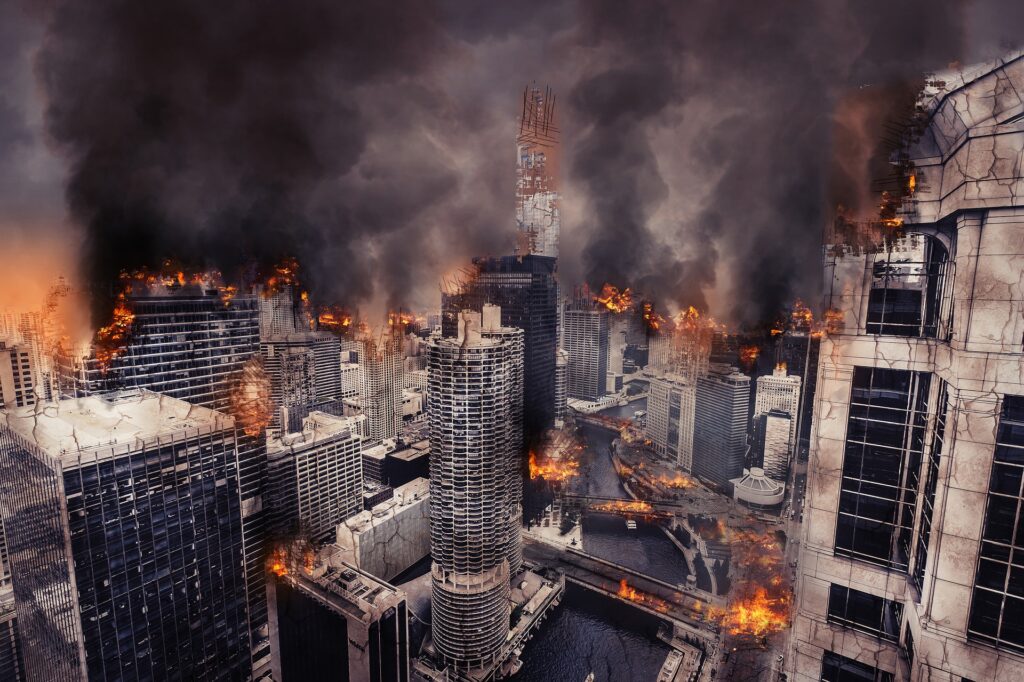 On April 9, 2020 (the day after Passover), while I was fasting and praying as part of a Solemn Assembly, God unexpectedly spoke this word to me:
"The Lord cometh! The Lord cometh! The Lord cometh! A fire goes before Him! Let all the earth be silent before Me!"
I turned to my husband and relayed the word. Because any valid "prophecy" must line up with scripture, we proceeded to search the Bible for confirmation. However, we couldn't come up with any passage that combines both "judgement", "devouring fire" and being "silent before God". Stumped, I let it go.
Then, on June 1, 2020, while spending more time in fasting and prayer, out of the blue— the same exact word came! In over forty years of walking with God, I have never received the same prophecy twice! Anything God speaks twice is something to pay serious attention to. However, this time when the word came, it came with such power that it put me on the floor, face-down before Him!
Engulfed in His radiant holiness, I couldn't stop crying, "Holy! Holy! Holy! Purify me! Purify me! Purify me!", over and over again for some time. I had never before experienced such a keen awareness of His Holiness before. I had a fresh realization of how worthy He is to be wholeheartedly worshiped and obeyed, from the rising of the sun to its going down! OUR lives are to revolve around HIM, not the other way around!
I realized God's main exhortation in what followed: While bowing and weeping before Him in His Glory, it was undeniably clear that HE IS COMING–VERY SOON–and we had BETTER GET READY! The bride is to be in her bridal chamber, NOW, seeing to it that her wedding dress (robe of righteousness) is spotless and wrinkle free! Time is short!
After having received this word for a second time, I spent several hours searching the scriptures for confirmation and further explanation. I found several verses describing devouring fire, such as Isaiah 29:6; 30:27;66:15-16, Malachi 3:2, Joel1:19, 20, 2:3,5, 30, and Revelation 18. These references warning of a coming "devouring fire" were nothing new to me, however.
God had been speaking to me from these passages for years now. Chapters three and four of Malachi were clearly illustrated to me in a vision in 2012, wherein I saw the whole earth being devoured by fire, leaving only buried "diamonds" in the earth. The diamonds represented genuine lovers of Jesus, who had REFINED by the devouring fire: "They shall be mine when I  make up my jewels". (Malachi 3:17) 
As well, since early 2017 God had been warning me of various "Passover" events from Bible passages and prophetic dreams. Especially the following passage. which had been given to me countless times, beckoning me into the Holy of Holies to know Him more intimately than ever before, in preparation for a coming major judgment:

"Come, my people, enter thou into thy chambers, and shut the doors about thee: hide thyself as it were for a little moment, until the indignation be overpast. For, behold, the Lord cometh out of his place to punish the inhabitants of the earth for their iniquity: the earth also shall disclose her blood, and shall no more cover her slain." (Isaiah 26:20-21)

However, searching through the prophetic books of the Old Testament, I could not find a passage that combined "fire", "judgment" AND being "silent before Him", until I found it by "accident".
One day I stumbled onto a newfound "Passover" verse, of being "hid" in the midst of judgment. It was Zephaniah 2:30. When I read it in its context, I found,
"Hold thy peace at the presence of the Lord God: for the day of the Lord is at hand." (Zephaniah 1:7)
I wondered if "hold[ing] thy peace" is defined by Strong's as "silence"? Remarkably, it says, "To hush, hold peace [tongue], be silent, still." (# H2013)
There it was in black and white!
Why is God warning us to "be silent before Him"? Because the Day of the Lord is close at hand!
Bible commentators explain that Zephaniah's "Day of the Lord" has a double meaning, its immediate one being the destruction of Judah, which did, in fact, come to pass in 605 B.C. Secondly, they explain that it refers to the end- time global judgment that encompasses the great tribulation, ending with the second coming of Christ. This seems to clearly define the "judgment" and the "devouring fire" that God twice warned me of!
Since I discovered Zephaniah, I have been glued to it, compelled by the Holy Spirit to read it at least weekly. As a result, I have found crucial information as to who will be "hid" (protected) in the midst of the fiery trials that will soon engulf the world:
"Gather yourselves together, yea, gather yourselves together…Before the decree bring forth, before the day pass as the chaff, before the fierce anger of the Lord come upon you, before the day of the Lord's anger come upon you.

Seek the Lord, all ye meek ("humble, lowly", #H6035) of the earth, which have wrought ("practiced" #H6466) his judgment ("justice, including a particular right or privilege", #H4941); seek righteousness, seek meekness: it may be ye shall be hid ("to hide, be absent, keep close, conceal, hide self, keep secret" #H5641) in the day of the Lord's wrath." (Zephaniah 2:1-3)
God is pleading with the inhabitants of the earth, giving them space to wholeheartedly turn to Him, before destruction arrives! Those who have already humbly surrendered their hearts and lives to Him are exhorted to deepen their commitment to Him by doing the following:
Seek God Himself, drawing near to Him in the Secret Place to know Him more and more intimately. (Philippians chapter 3) To intimately know Him is to be transformed into His likeness. (2 Cor. 3:18)
Seek righteousness, being careful to study, know and be a doer of His Word. (Joshua 1:8, Matthew 6:33, James 1:22) The just shall live by faith, and faith comes by hearing the Word of God. (Romans 1:17, 10:17)
Seek deeper humility and meekness, asking God to expose and purge out any pride and rebellion. (Psalms 139:23-24) God resists the proud but gives grace to humble and submissive servants. (James 4:6-10, 1 Peter 5:5-10) The following verse sums up what God is saying in Zephaniah:
"Whereby, the world that then was, being overflowed with water, perished: But the heavens and the earth, which are now, by the same word are kept in store, reserved unto fire against the day of judgment and perdition of ungodly men…Wherefore, beloved, seeing that ye look for such things, be diligent that ye may be found of him in peace, without spot, and blameless." (2 Peter 6, 7, 14)
Finally, I discovered the last clue in Psalm 50:
"The mighty God, even the LORD, hath spoken, and called the Earth from the rising of the sun to the going down thereof…Our God shall come, and shall not keep silence: a fire shall devour before Him, and it shall be very tempestuous round about Him. He shall call to the heavens from above, and to the earth, that He may judge His people. Gather my saints together unto me, those who have made a covenant with Me by sacrifice. And the heavens shall declare His righteousness: for God is judge Himself. Selah." (Vs1-6)
This Psalm is addressed to two groups of people: God's people and unbelievers.
God's people had departed from a true, heartfelt, Biblical relationship with Him. Portions of this Psalm are a rebuke of formalism and pharisaical hypocrisy (verses 8-13), a call for God's people to return to a lifestyle of wholehearted thanksgiving and praise, holy obedience, and trust in God (verse 14,23)– prompting Him to "deliver those who call upon Him in the day of trouble." (Vs.15)
As for the unbelievers being addressed in Psalm 50, God would have them to admit their their grave spiritual condition, as well, surrendering their hearts and live to Christ. He is the only true safety in the soon coming tribulation, judgment, ingathering of God's people, and return of Christ. Through Jesus, God is both Judge and our Justifier, by judging our sins on Him! Those who come to the Cross to be forgiven of their sins are "hid in Christ" (Colossians 3:3), the Safest Place of all!