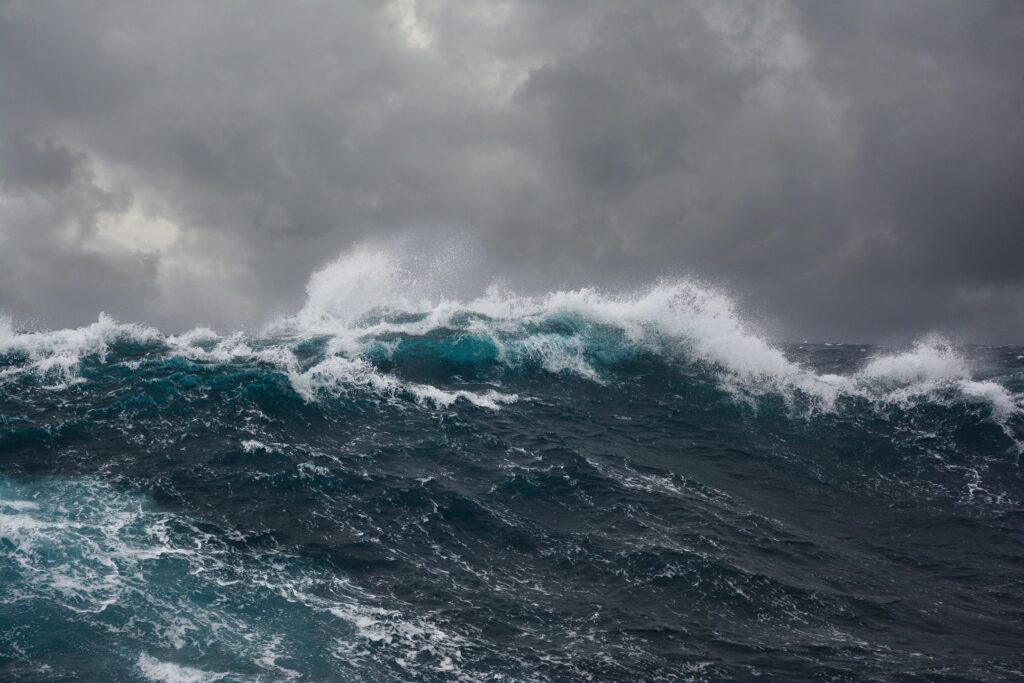 Because of time constraints, I have not been extremely involved in social media and I rarely go on Facebook. Beyond that, I prefer to stay in the back round. Although I have taught publicly on various occasions and have posted a few articles on Z3news, I have done so only because I felt compelled by God to share His message. This is another one of those occasions. Except this time, I feel a stronger urgency than ever before.
On October 1, 2019, I had a prophetic dream. It was a warning dream, alerting me to a seemingly imminent event coming to America. It also contained crucial instructions as to how we are to weather this coming "storm". Because the dream was packed with biblical symbolism, so far it has taken some time for God to unveil much of its meaning. I will unpack my findings in this article and in a series of following articles. I invite you to join me on the journey.
The dream began with a group of us standing in a vast field, extending as far as the eye could see. We were all staring at the breath-taking landscape of a beautiful American farmland, admiring the lush acres of crops blowing in the breeze. It was stunning. Strangely, I heard the farmer's name proclaimed, loud and clear, as "Doug Kaufmann". (I will come back to this name and how it confirms the message of the dream.) The location of the farm seemed to be in the mid west or, what is known as "America's heartland". Looking around, it was just like the song, America the Beautiful, describes: "Oh beautiful for spacious skies, for amber waves of grain. For purple mountains majesties, above the fruited plain! America, America, God shed his grace on thee."
My eyes then moved to the farm's sprawling farmhouse. It's color stood out to me emphatically: It was bright, radiant-white. Oddly, it looked more like a huge, luxurious mansion than a weather-beaten farmhouse. While viewing the house, for some reason, a man standing next to me whispered to me, warning me not to be fooled by its owner's appearance: He was a self-proclaimed "Christian" by reputation, but this was false. The man was exposing him as a counterfeit.
Suddenly, we all appeared inside the farm house. Standing there, peering out through the front picture window, I still couldn't take my eyes off from the beautiful landscape! Mesmerized, as if I were under some evil spell, they were glued to the gorgeous farmland. My adult children and their spouses were hanging out in the den, fixated on their electronics. Interestingly, the room they were in had no windows. While we were all distracted with our prospective obsessions, my husband yelled out like a siren, "LOOK OUT THE BACK WINDOW!" I ran to the window and gasped at what I was seeing: The sky was pitch- black mixed with splotches of blood-red! I thought of the passage in Joel 2:20, "Wonders in the heavens and in the earth, blood, and fire, and pillars of smoke." I quickly realized, however, that I was not looking at mere black clouds; They were massive, super- TORNADOES, two or three in number! (I can't remember which). Aligned SIDE BY SIDE, they were barreling swiftly toward our house! Shockingly, THEY WERE JUST UPON US!
My husband and I frantically called out to everyone in the house, "GET TO YOUR BEDS AND PRAY! NOW! THERE'S NO TIME TO WASTE!" Somehow, everyone's beds were present, to which we each quickly ran! Fastening ourselves to them for dear life, like anchors in a storm, we screamed for God's mercy! In the midst of this approaching great- shaking, our beds, now our ALTARS, were the only places of safety and stability!
I knew this was it. Having just seen what was racing toward us, I braced myself and cried out with all of my heart, honestly expecting to be hit. The devastation came…and then, silence. Surprisingly, we were all still in tact… After regrouping, my husband got up and again peered out the window. Then he yelled, "Look! The trees just outside our window are COMPLETELY STRIPPED… but the tornadoes didn't touch US!!!" The dream ended with all of us kneeling at our beds, dazed, yet both relieved and amazed at how absolutely protected we were! God had responded to our earnest pleas for mercy, causing the tornadoes to "PASS (skip) OVER" us!
I awoke from the dream with Psalm 91 strongly upon my heart, with a special emphasis on the below highlighted verses:
"He that dwelleth in the secret place of the Most High shall abide under the shadow of the Almighty. I will say of the Lord, He is my refuge and my fortress: my God, in Him will I trust. Surely he shall deliver thee from the snare of the fowler, and from the noisome pestilence. He shall cover thee with His feathers, and under His wings shalt thou trust: His truth shall be thy shield and buckler. Thou shalt not be afraid for the terror by night; nor for the arrow that flieth by day; nor for the pestilence that walketh in darkness; nor for the destruction that wasteth at noonday. A thousand shall fall at thy right hand; but it shall not come nigh thee. Only with thine eyes shalt thou behold and see the reward of the wicked. Because thou hast made LORD, which is my refuge, even the Most High, thy habitation; there shall no evil befall thee, neither shall any plague come nigh thy dwelling. For he shall give his angels charge over thee, keep thee in all thy ways. They shall bear thee up, lest thou dash thy foot against a stone. Thou shalt tread upon the lion and adder…Because he hath set his love upon me, therefore will I deliver him: I will set him on high, because he hath known my name. He shall call upon me, and I will answer him: I will be with him in trouble; I will deliver him, and honor him. With long life will I satisfy him, and shew him my salvation."
Symbolism Revealed
Right away, I recognized the front picture window as representing natural sight and the back window as spiritual sight, while the lack of windows in the other room represented complete spiritual blindness. The radiant- white farmhouse represented the church, "white" symbolizing the "righteousness of Christ" in scripture. The warning from the man standing next to me indicated that its proclaimed "righteousness" was false, though it gave an outward appearance of godliness. Stepping inside the house, levels of complacency and spiritual death were revealed in some of its members. Also, the farmhouse's huge, mansion-like appearance indicated its obsession with financial and material prosperity. As for the church members, I represented the distracted bride of Christ, who seemed to be enthralled with the world instead of her Bridegroom. My husband represented Christ, the Head of the church, as well as those who are rightly connected to the Head and are spiritually alert. Our children represented the younger generation raised in the mostly powerless modern church, and those who have become mostly connected to the internet and disconnected from Christ. The beds turning into our altars were a warning for each individual to "wake up" from slumber, to watch and pray, and to wholeheartedly return to God as a true worshiper. We are not be distracted by the world surrounding us, nor caught up in the worship of God's blessings instead of Him, indicating the "lust of the eyes." We were to realize the true reality of this present passing world, and then look higher, still, to the Eternal Realities which will never pass away, setting our affections on things above. This lush, American farmland would suddenly be stripped by the looming, massive tornadoes, but judgment would begin with the house of God.
It was obvious that God was warning of at least one imminent event coming to America, represented by the two or three super- tornadoes. Since prophetic dreams are symbolic, I wasn't sure if they represented literal tornadoes/catastrophic events, which were to take place in the literal mid west. (For example, the verse that came to me in Joel that describes pillars of black smoke mixed with blood and fire, is speaking of war.) Or, was it something else, perhaps symbolic, that would desolate the landscape of our nation– ultimately piercing the "heartland" of America (and consequentially, the hearts of Americans)?
Perhaps the massive storm in the dream partially represented the approaching Corona Virus, which began in China just weeks after I had the dream, and the teetering economy we are now watching globally. Or, maybe something else. According to Matthew 24, other shakings are coming. We might as well face the fact that there will be more pestilences, plagues and diseases, as well as devastating earthquakes, famine, inflation, increasing wickedness, violence and war– and deal with it God's way.
Beyond that, I might as well come out with it and confess, as uncomfortable as it is for me to do so, that since 2017, God has been relentlessly warning me of a coming sudden "storm" that would result in mass deaths and great sorrow and mourning for many. I have felt His grave concern in my times of prayer, yearning for as many as possible to "come under his wings" before it is too late, and urging me to pray to that end. At this point, I believe America as a whole, (and probably the world), is well past the tipping point, and that judgments are set. In scripture, God always gives space to repent, sending warning after warning. With no repentance, judgment does, indeed, come–as an act of Mercy, to bring repentance under fire– in hopes of saving souls in the end. I believe that at this point, those who are spared, with determined types and degrees of judgments "passing over" them, will come down to the individual.
Additionally, God had long ago warned me of a coming total economic collapse, revealing that America would one day be totally "stripped". Believers would have to "know His Word" and "cling to Him", diligently "keeping in step with the Holy Spirit" to make it through. He explained that it would be "similar to Israel in the wilderness," where He, alone, led and provided supernaturally for His redeemed. Was this what was being indicated by the trees that were "stripped" just outside our window, and along with them, the vast farmland? Or would this "tornadic storm" lead to it? The fact that the dream opened with fields of lush crops which were about to be hit, it definitely seems to indicate a coming famine and consequential economic crash, perhaps preempted by a catastrophic event.
And, when you factor in the meaning of the name, "Doug Kaufmann", it indicates this even more so.
Since he is a public figure, a nutritionist by occupation and the host of the TV show, Know the Cause, for a long time I hesitated even mentioning Doug Kaufmann in this article. At first, I chalked up his part in the dream to the fact that he is a huge proponent of farm-fresh organics. Still, I knew something was missing. Finally, in June of 2021, I heard and followed Cherie Goff's wise teaching advice, which is to research the strict meanings of names in prophetic dreams. I have added my new findings to this article, below. This is where it gets really shocking…
According to Wikipedia, "Kaufmann" means, "Merchant". (This word has to do with business, revenue, industry, local trading of goods such as bakers and grocers, global importing and exporting of goods, capitalism, economic development and growth, etc.)
Here's the mind-blowing part:
According to Wikipedia, the symbol that is commonly used to illustrate the word, merchant, is the "scales and balances". (In my research, I found this to be Biblical: Hosea 12:7 also connects "merchants" with "scales/balances") When I zoomed into the image that Wikipedia included to illustrate this symbol, however, I almost fell off my chair! It was a picture of the third seal in Revelation 6:5, depicting a rider on a black horse holding a pair of scales! (If you don't believe me, see for yourself! Go to Wikipedia, look up "meaning of the name, Kaughman". Follow the link to "Merchant" and click on it." Then, click on the image of the man riding the black horse and you will find this description: "Apocalypse3sealBlackHorse".)
Here's what Revelation 6:5-6 says about it: "When the Lamb opened the third seal, I heard the third living creature say, Come! I looked and before me was a black horse! Its rider was holding a pair of scales in his hand. Then I heard what sounded like a voice among the four living creatures, saying, 'A quart of wheat for a days wages, and three quarts of barley for a days wages, and do not damage the oil and the wine!'"
(My Application Study Bible footnote says, "the black horse stands for famine".) This "famine", as described here, is portrayed as creating a total economic collapse.
The meaning of "Doug"? "Dark, Black, Stream." Hmmm. Black horse, black tornadoes, black smoke…
Instructions from the Lord
I don't know if the dream is warning of the imminent opening of THE actual "third seal" (and consequently, the first two), or not. Wikipedia may have included the image in their article by pure coincidence, (or maybe not!) Regardless, the symbol of the scales being tied to the meaning of Kaufmann's name, and Hosea 12:7 additionally tying "merchants" and "[dishonest] scales" together, seems to add up to a soon-coming famine and economic collapse.
How are we to prepare?
The Lord is sounding the alarm, in no small voice, to "wake up from sleep" (complacency and lukewarmness), return to the fervent altar of prayer, to "watch (staying awake spiritually) and pray". He is urging all to "flee for refuge to take hold of the hope offered to us, which hope we have as an anchor for the soul, firm and secure." (Hebrews 6:18-19)
But there's more…
When my husband came home just hours after I had the dream, I told him all about it. I described how the tornadoes devastated everything, stripping even the trees which were only inches from the house, but that, amazingly, it did "not come nigh [us]". "No plague [came] nigh our dwelling"! A normally low-key guy who is not usually big on emotionalism, immediately he looked quite shocked! He then explained how God had mightily moved upon him from Psalm 32:6 that same morning—possibly while I was dreaming— regarding that same exact topic! It reads,
"For this shall everyone that is godly pray unto thee in a time when thou mayest be found: surely in the floods of great waters they shall not come nigh unto him."
Note that the context, found in the preceding verses, which is honesty, transparency and whole- hearted confession and repentance before God, is an important piece of the puzzle, (which I will detail in a subsequent article in this series.)
The following day after having the dream, more instructions began to flow, this time coming from the book of Joel. Joel's audience was facing an unprecedented catastrophe due to their backslidden, apathetic spiritual condition. A plague of locusts, perhaps symbolic rather than literal, was stripping the land of its vegetation and crops:
"He hath …barked my fig tree: he hath made it clean bare…the branches thereof are made white…The field is wasted, the land mourneth: for the corn is wasted, the new wine is dried up, the oil languisheth. Be ashamed ye [farmers]…for the wheat and for the barley; because the harvest of the field is perished. .." (Joel 1:7,10, 11)
Along with the warning came these following instructions:
"Gird yourselves, and lament, ye priests: howl, ye ministers of the altar: come, lie all night in sackcloth, ye ministers of my God…Sanctify a fast, call a solemn assembly, gather the elders, and all the inhabitants of the land into the house of the Lord your God, and cry unto the Lord. Alas for the day! for the day of the Lord is at hand, and as a destruction from the Almighty shall it come.
Therefore, also now, saith God, turn ye unto me with all your heart, and with fasting, and with weeping, and with mourning. And rend your heart, and not your garments, and turn to the LORD your God: for he is gracious and merciful, slow to anger, and of great kindness, and repenteth him of the great evil. Who knoweth if he will return and repent, and leave a blessing behind him; even a meat offering and a drink offering unto the Lord your God?
Gather the people, sanctify the congregation, assemble the elders, gather the children and those that suck the breasts, let the bridegroom go forth of his chamber, and the bride out of her closet. Let the priests, the ministers of the Lord, weep between the porch and the altar, and let them say, Spare thy people, O Lord…Then will the LORD be jealous for his land, and pity his people.Yea, the Lord will answer and say unto his people, Behold, I will send you corn, and wine, and oil, and ye shall be satisfied therewith" (Joel 1:13-15; 2:12-14, 16-19)
"Solemn assemblies", noted in Joel's prophecy above, were a regular part of the Jewish feast days, but also in times of crisis. They were to set aside their work loads for a period of time to focus entirely on God and His Word, approaching Him in earnest prayer and repentance for themselves and their nation. You see, according to 2 Chronicles chapters 6-7, the Jews recognized catastrophes, such as locust plagues, pestilence, droughts, famine and war, as being a sign of judgment due to their moral decline and spiritual apathy. It was a clear indication that true, heartfelt repentance was needed– a returning to God with all the heart–dedicating one's life to Him in godly fear and loving obedience. Throughout the Old Testament, we see the Jews coming together in droves to humble themselves, to pray, to seek God's face, and to turn from their wicked ways, so that healing could occur in their land. (2 Chronicles 7:14). The altar was God's prescription for disaster.
The altar is STILL God's prescription!
Speaking to a New Testament church that was in love with the world instead of God, James writes under inspiration,
"God opposes the proud but gives grace to the humble. Submit yourselves, then, to God. Resist the devil, and he will flee from you. Come near to God, and he will come near to you. Wash your hands, you sinners, and purify your hearts, you double minded. Grieve, mourn and wail. Change your laughter to mourning and your joy to gloom. Humble yourselves before the Lord, and he will lift you up." (James 4:5b-10)
In light of where we are in the world right now, what the Word of God teaches, and the prophetic dream given to me with my husband's confirmation, it is evident that God is right now calling every one of us into a time of fasting, prayer, earnest self-examination and repentance. As Isaiah 26:20 puts it, to "enter into [our] chambers, and shut the doors about [us], and hide [ourselves], as it were, for a little moment, until the indignation be overpast." This is an appointed time to "rend our hearts", exposing our deep, INWARD selves to the transforming Light of the Holy Spirit, and to turn from our wicked ways. In short, He is calling for good old-fashioned solemn assemblies, shouting from heaven,
"Let the wicked man forsake his way, and the unrighteous man his thoughts: and let him return to the Lord, and he will have mercy upon him; and to our God, for he will abundantly pardon." Isaiah 55:7.
God does not want to allow Americans to be destroyed. He does not delight whatsoever in seeing people suffer. It absolutely breaks His heart! But, with no repentance, we bring destruction upon ourselves! Those who do repent? They can expect their Father's faithfulness, saving power and provision in the midst of judgment:
"The Lord knoweth the days of the upright: and their inheritance shall be forever. They shall not be ashamed in the evil time: and in the days of famine they shall be satisfied." (Psalm 37:18-19)
With everything changing so rapidly around the globe, there is no time to waste in coming to our knees and crying out for His mercy. Even if there is no unchecked sin in our life, we will need God's help to be amply prepared for the darker days ahead, to not fall into temptation, and for His light to shine brightly through us to help those in need. Our loved ones, our churches, the complacent and the backslidden, also need our earnest prayers, and, of course, those trembling hearts who are lost, altogether, who need help finding their weary way underneath God's sheltering wings.
In the midst of whatever shakings, whether present or future, there IS one place of unshakable stability and safety for us to hide in! Psalm 91 calls it the "Secret Place of the Most High". Here, we can live at rest, lovingly nestled under His wings. Truly, this is that "place of refuge" held out to all, that unyielding "Anchor" to which we can flee!
The question remains, what, exactly, IS the secret place of the Most High, and how, exactly, do we "dwell" there? Well, I thought I knew… until I dreamed my dream and God began to open it UP to me! I found it all to be very enlightening, extremely comforting, incredibly empowering and quite instructional. These are teachings that will keep you grounded in the shaky days ahead, safe through every storm—and at peace in these very turbulent end-of-days. You can find them in the "Psalm 91 Series" under "blogs"at (heavenshopeunveiled.com)